KHAZAEN DRY PORT IS OFFICIALLY INAUGURATED
Asyad Group has today inaugurated
Khazaen Dry Port
in Khazaen Economic City in Barka, under the patronage of His Excellency Sheikh Issa bin Hamad Al-Azri, Governor of South Al Batinah. The inauguration was attended by a host of government officials, dignitaries, walis from the government of South Batinah and representatives from the private sector. These included Eng. Khamis bin Mohammed Al Shamakhi - Undersecretary of the Ministry of Transport, Communications, and Information Technology for Transport; The inauguration of Khazaen Dry Port, the first of its kind in Oman, is part of the Oman Investment Authority's investments in the logistics sector, in partnership with the private sector, which aim at enhancing national economic diversification efforts and cementing Oman's position as a global logistics hub.
His Excellency Sheikh Issa bin Hamad Al-Azri, Governor of South Al Batinah, said that the logistics sector is perceived as one of the five priority sectors of Oman Vision 2040 given its crucial role in attracting many investment opportunities and projects, energizing, and accelerating trade and achieving sustainable economic growth. "There is no doubt that today's celebration of the official inauguration of Khazaen Land Port is yet another feather added on Oman's cap under the wise leadership of His Majesty Sultan Haitham bin Tariq - may God protect him, noted His Excellency."
"It was refreshing to hear during the inauguration about
Asyad Group
community outreach activities, which included helping members of the society, over the past period, develop promotional plans; learning about their needs and aspirations from the dry port and benefiting from the project in promoting business in the neighboring wilayats especially in the areas of transport, bonded warehouses and customs clearance activities, which are mostly run by young Omanis.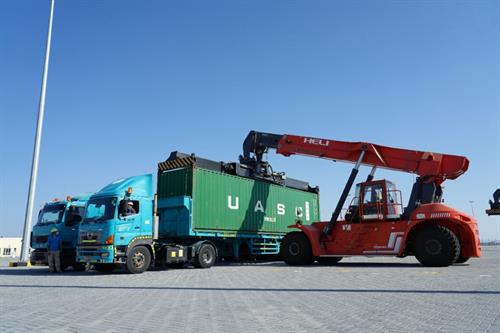 His Excellency Eng. Khamis bin Mohammad Al Shamakhi, Undersecretary of the Ministry of Transport, Communications, and Information Technology for Transport pointed out that the commencement of commercial operations of Khazaen Dry Port is undoubtedly another milestone for Oman logistics sector and will present it with a wide range of opportunities that will boost Oman's competitive advantage both regionally and internationally. It will also offer additional benefits and options to the business community and raise the ease of doing
business index in Oman
.
His Excellency Khamis Al Shamakhi stressed that the private sector and the business community in Oman, including entrepreneurs and SME owners, are required to capitalize on the various services and facilities offered by Khazaen Dry Port to expand their reach to the neighboring and regional markets. This would be facilitated by the strategic location of the port that serves as a vital link between seaports, land and airports. He also confirmed that the Ministry of Transport, Communications and Information Technology is working on completing the linking of Khazaen Dry Port with Suwaiq Port and the main roads in the governorates of North and South Al Batinah.
Colonel Said Khamis Al Ghaithi, Director General of Customs, explained that the Royal Oman Police, represented by the Directorate General of Customs, was keen to provide Khazaen Dry Port with the necessary human capital for providing integrated customs services ensuring a faster clearance process through "Bayan" system. "This in turn would directly contribute to accelerating business activities and increasing the flow of goods handled through the Khazaen Dry Port, as well as cutting costs and time, in line with the National Logistics Strategy 2040 (SOLS 2040)", he added.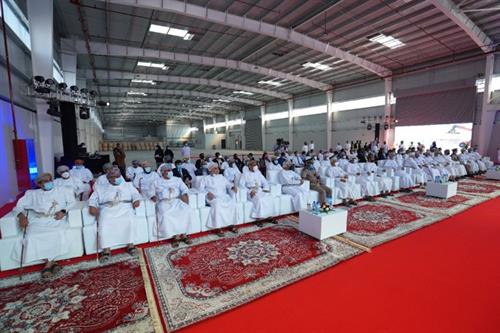 For his part, Dr. Ahmed Mohammed Al Abri, CEO of Asyad Ports and Terminals and Chairman of Khazaen Dry Port, in his comments said, "The official commissioning of Khazaen Dry Port falls under the pillars of the National Logistics Strategy 2040 (SOLS 2040), which eyes for the integration of logistics services and solutions to position Oman as a global logistics hub."
Al Abri further expounded that, leveraging its geostrategic location, Oman is poised to tap into regional opportunities to enhance logistics performance, and drive economic growth, with its access to global markets and more than 2 billion consumers through its integrated logistics system, that includes commercial ports, international airports, and land ports enabling Oman to maintain its position as logistics and transit hub for cargo linking regional and international markets together.
"Developed over an area of up to 100,000 sqm," added Al Abri," Khazaen Dry Port is the first of its kind in the Sultanate of Oman and will serve as a link and a land logistics hub between Oman and other countries of the region. It offers great value proposition as a re-export and trans-shipment hub, providing customs-bonded services, and opening up opportunities across the warehousing services value chain and multimodal transportation. He also commended the outstanding efforts exerted by the Ministry of Transport, Communications, and Information Technology to obtain an international character licence and accreditation bearing the international coding OMKDB. This is in addition to the vital role of Royal Oman Police represented by the Directorate General of Customs in creating favorable conditions and fulfilling all the requirements for the port to be an international customs zone, capable of providing full-fledged customs inspection and clearance services, with a single window/one-stop service offering for flexible, accurate and fast clearance of goods.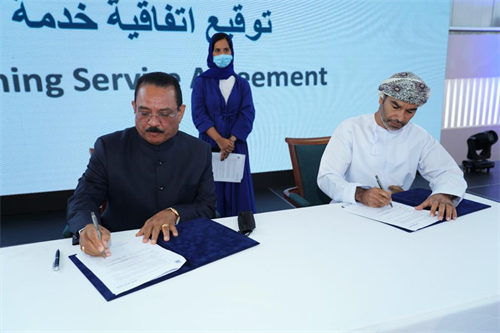 Highlighting the port's world-class infrastructure and facilities, Al Abri stated, "The port boasts an integrated logistics structure, including state-of-the-art facilities that represent a smart trade catalyst to attract and promote investments and quality projects to the port, ensuring the sustainable competitive advantage of its services, with 70k TEUs throughput annually. Furthermore, the port contains a truck rest area and offers customs-bonded facilities for storage, along with unloading and storage of modular and reefer containers and general cargo, and long-term storage solutions. It is also equipped with modern infrastructure to manage all kinds of handling equipment for storage of containers and general cargo. Al Abri affirmed that there is a plan in the pipeline for raising the efficiency of the port's logistics area to an additional area of 150,000 sqm over the next five years to accommodate the expected increase in the volume of operational work.
In the spirit of a sustainable and complementarity partnership between the public and private sectors, Dr. Ahmed Al Abri, Chairman of Khazaen Dry Port, expressed his happiness at the success of the partnership in this vital logistics project, which is a real model of partnership with the private sector, represented by Khimji Ramdas, Al Madina Logistics and Mubadara.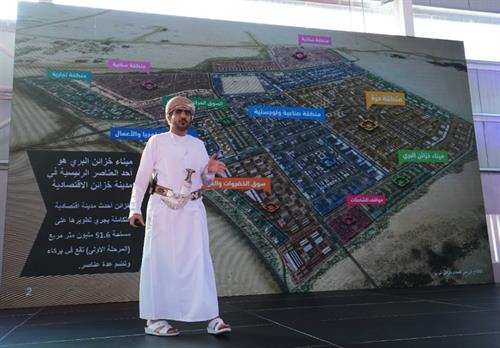 On the sidelines of the opening ceremony, H.E. Sheikh Issa bin Hamad Al-Azri, Governor of South Al Batinah, inaugurated the operation management system at the Port, and a partnership agreement was signed between KDP and Land and Sea Logistics Company.
It is worth mentioning that Khazaen Dry Port, the first integrated land port in partnership between the public and private sectors, will be an important link between the various seaports and commercial, industrial and economic estates in Oman as a result of the growth of shipping and maritime traffic witnessed in the Omani ports, creating a central transshipment point to speed up the movement of containers and cargo as well as to reduce the total cost of outbound and inbound goods.
Khazaen City is the latest integrated economic city to be developed in the Wilayat of Barka, South Al Batinah Governorate. The massive integrated economic city enjoys a strategic location near the capital, Muscat, and will be home to a central fruit and vegetables market, special zones for SME industries and logistics, besides multi-mix residential units.