ASYAD GROUP SIGNS MOU WITH TANZANIA POST TO SET UP MULTIMODAL LOGISTICS PARK: E-COMMERCE HUB IN DAR ES SALAAM WITH AN EYE ON EAST AFRICA
MoU with Tanzania Post to establish a multimodal business park and an e-commerce hub
Asyad Group developing e-commerce and logistics sectors in Tanzania to expand its global footprint throughout East Africa
A new logistics business Park will offer a one-stop-shop for warehousing, fulfillment, cold chain, CEP, container freight and freight forwarding solutions
A multimodal hub will provide end-to-end logistics services from Oman to Tanzania to East Africa
Tanzania views Asyad Group as a leading provider of e-commerce supply chain solutions and a gateway to global markets.
Asyad Group signed a Memorandum of Understanding (MoU) with Tanzania Post to explore the potential of a multimodal logistics business park and e-commerce hub in Dar es Salaam.
Building on its advanced e-commerce solutions, Asyad is expanding its presence to the Tanzanian markets in furtherance to its long-standing partnership with Tanzania Post. The expansion aims to boost cross-border trade and increase the flow of e-commerce between the two countries, all while expanding their collective reach through East Africa and the Middle East using Tanzania Post as the entry gateway.
The MoU was signed by Nasser Al Sharji, CEO of Oman Post and Asyad Express, and Macrice Daniel Mbodo, Postmaster General of TPC. The memorandum aims at augmenting revenues and employing Asyad Group's offering and expertise to enable and accelerate Tanzania Post's express and e-commerce capabilities.
Under the MoU, the multimodal logistics business park will be designed to serve as a one-stop-shop solution for all services required to ensure the development of a world-class e-commerce hub. These include a range of products and services, such as warehousing, fulfillment center and cold chain solutions, as well as courier express parcels (CEP), container freight solutions and freight forwarding, driven by logistics technology and digital solutions.
The MoU also aims at conducting a feasibility study to provide a strategic direction for the project execution roadmap and investment strategy, taking the original partnership between Tanzania Post and Asyad to the next level. This involves assessing the overall feasibility of establishing a fully-fledged logistics park in Tanzania offering multimodal logistics services that connect Oman to Tanzania and open the East Africa region for end-to-end logistics using Tanzania as a regional logistics hub.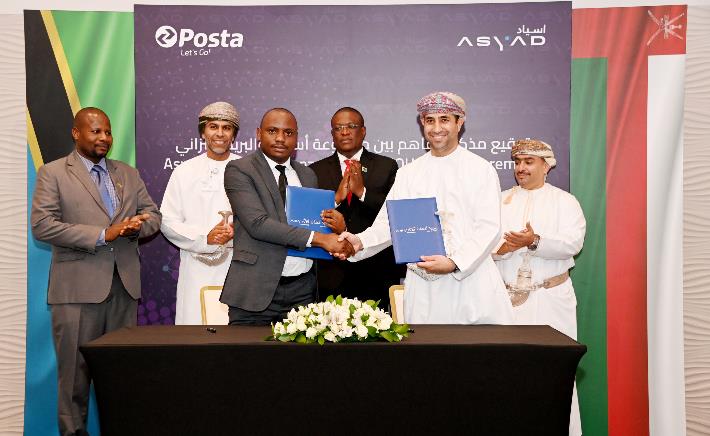 Highlighting the significance of this new milestone in the Oman-Tanzania strategic partnership, Oman Post and Asyad Express CEO, Nasser Al Sharji said: "This MoU signed between Asyad Group and Tanzania Post is a powerful addition to the Group's toolkit, as it helps translate our commercial plans to position Oman as a global logistics hub and a transit gateway to East Africa, the Middle East, the Arabian Gulf and India. We are proud to pursue our efforts to enter the Tanzanian market in a way that further improves the global logistics sector and enables its development in the East Africa Region."
"We plan to utilize this cooperation to continue to launch our world-class logistics services in African markets which will unlock bilateral trade opportunities and allow us to deploy additional commercial and logistics offerings, with a key focus on e-commerce activities in the rapidly growing Tanzanian market", he added.
Macrice Daniel Mbodo, Postmaster General of TPC, welcomed the new memorandum and said: "Asyad Group is the leading provider of e-commerce supply chain solutions in Oman, and we will work closely together under this partnership to empower our businesses to reach customers in Oman and the world and connect the Tanzanian and Omani markets with top-notch logistics solutions."