TITLE
PUBLICATION DATE
DESCRIPTION
ASYAD SHIPPING SIGNS DEAL FOR TWO STATE-OF-THE-ART LNG CARRIERS BOLSTERING ITS FLEET TO MEET GROWING GLOBAL ENERGY DEMAND
Asyad Shipping to build two large LNG carriers at 1st class shipyard, Hyundai Samho Heavy Industries
The carriers are designed to meet the latest and highest standards of sustainability and efficiency
The agreement is another step in Asyad's pursuit of a balanced and diversified fleet
Investment in LNG underlines Asyad's commitment to a zero-emission maritime future
Asyad Shipping, part of Asyad Group Oman's global integrated logistics service provider, signed an agreement with Korean first-class shipyard Hyundai Samho Heavy Industries to build and deliver two state-of-the-art fifth-generation liquefied natural gas (LNG) carriers in 2026.
The agreement is set to grow Asyad Group's world-class shipping fleet to 72 tankers for various uses, thereby meeting the anticipated increase in demand for LNG transportation and energy logistics services in the global market.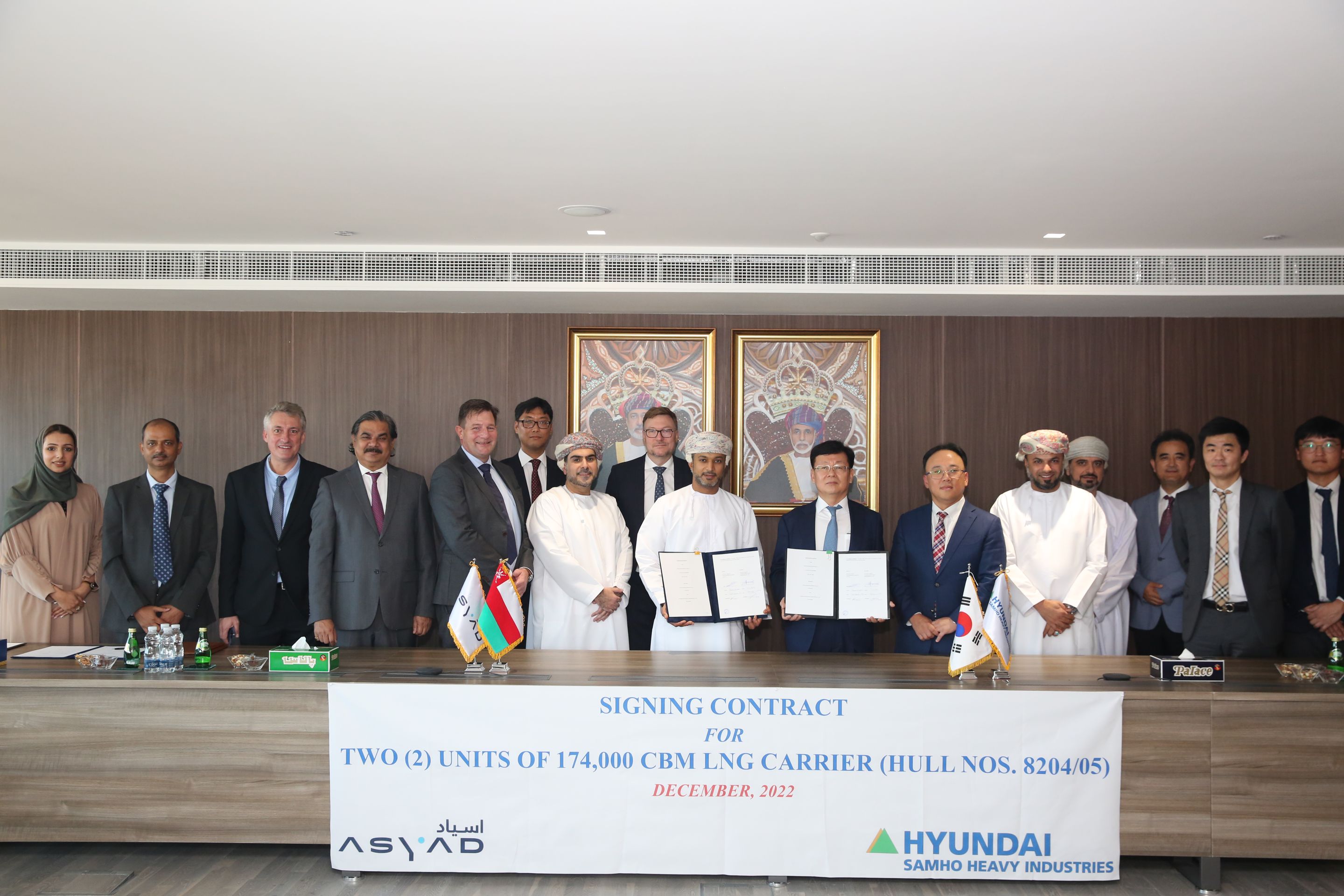 With EU Sustainable Finance Taxonomy labeling the use of LNG as 'green', Asyad Shipping's choice of investment showcases Asyad Group's commitment to sustainability at a time when global industries, including the maritime industry, is diverging from its dependence on traditional fossil fuels such as coal and oil. LNG is an important resource in this transition, seen as the cleanest and most sustainable fossil fuel, which places it in a prime position to dominate the energy transition towards zero-emission fuels.
Asyad Shipping and Asyad Drydock CEO, Ibrahim Al-Nadhairi, highlighted that this agreement comes in line with Asyad Shipping's diligent pursuit of a more balanced and diversified fleet which is better suited to provide international customers with reliable and efficient solutions and enhances Asyad Group's competitiveness and position as a strategic logistics partner for major global energy players.
"The fifth-generation 174,000 cbm LNG carriers meet the highest international standards of environmental and commercial sustainability, as well as boasting 58% less fuel consumption than the older, second-generation 138,000 cbm LNG carriers. Furthermore, Asyad Shipping's investment comes at a time when green energy demands are growing, exacerbated by international geopolitical developments and the dire need for decarbonized logistics and energy sectors," Al-Nadhairi added.
With significant new production of LNG and export capacities coming on stream in 2025/2026, the addition of these two world-class LNG carriers will reaffirm Asyad Group's standing as an integrated energy logistics provider trusted worldwide for offering sustainable tailored solutions to meet the demands of customers across the globe.